By on
You Should Learn From Non-Believers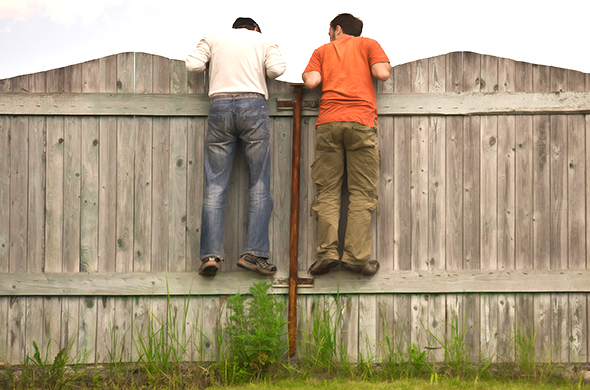 George and Joann are my neighbors. My literal neighbors. We share a fence and they live right next door. And they are some of the best neighbors a family could ever ask for.
They're the kind of people who lend you their pick-up truck whenever you need to haul firewood or mulch (or even a great piece of furniture off the curb!), continually invite you to use their cabin in Wisconsin "whenever you can find the time" and have an "open garage" policy when it comes to borrowing tools.
They're also not believers.
And welcoming them into my life—as they have welcomed me and my family into theirs—has grown me so much.
THEY REMIND ME HOW MUCH MY FAITH MATTERS
Not too long ago, George came over when he saw me outside and began to share that there had been a massive misunderstanding with the funding that Joan's daughter was supposed to receive in order to complete her graduate studies in England. He was distraught for both Joan and her daughter considering the many plans that had been made—plans that couldn't be undone.
He talked and I listened, and I even had the chance to say a few things that I think may have encouraged him. When I offered to pray, he took me up on it, agreeing with an impish smile that, "It can't hurt!"
But as George walked away, I realized again just how much my faith matters to me and marveled at how others can get along without the sure presence of God in their lives.
THEY MAKE ME SEE COMMON GROUND BETWEEN US
Over our ten years as neighbors, I have come to love and respect George and Joan for all their kindnesses, sincere beliefs, and hard work, but I am also increasingly aware that a difference exists in terms of how we view the world.
And they know it, too.
Still, it has been so beautiful and encouraging to see how the mutuality in our relationship results in sincere dialogue and discovering common ground about even those things we differ on.
THEY COMPEL ME TO ARTICULATE WHAT I BELIEVE
I don't consider myself an evangelist by any stretch of the imagination, but I do know that some of the conversations I've had with George and Joan over the fence while giving our rakes and gardening tools a rest, have challenged me to at least try to communicate how my faith impacts my life and informs my perspective. I'm grateful for the few times I've had the courage to do so, for the words the Holy Spirit has given me, and that George and Joan have listened willingly.
THEY CHALLENGE ME TO DO THE WORK OF THE KINGDOM
George and Joan are justice-advocating, dignity-affirming people. And when I hear their passion for those whom Jesus would call the least of these, I am convinced that God is using them to convict me of the vastly important work he came to do. "As iron sharpens iron" (says the Proverb), these wonderful neighbors challenge me to "fill in" "the hole in our gospel" (as Richard Stearns so aptly put it when he wrote his book in 2009) with their zeal and passion for the marginalized.
I'm convinced that my most effective witness for Christ, as far as George and Joan are concerned, is seeing if I actually "put my money where my mouth is" and actively and intentionally love, advocate for, and walk alongside the vulnerable.
THEY KNOCK ME OFF MY ROCKER
If we don't allow our relationships to move beyond those in our comfortable Christian circle and welcome those who knock us a bit off our rocker, we will only have ourselves to blame when our faith grows stagnant.
Will you open your life and welcome the person who believes differently than you do? God wants to introduce you to the wonderful possibilities that exist on the other side of the fence.