The 9 Arts of Spiritual Conversations
The 9 Arts are nine simple practices that help us relate with people the way Jesus did. You can think of the 9 Arts in groups of three: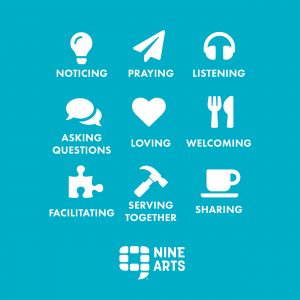 1. Getting Ready:
Noticing, Praying, Listening
2. Getting Started:
Asking Questions, Loving, Welcoming
3. Keeping It Going:
Facilitating, Serving Together, Sharing
". . . a fresh and innovative approach to empower Christians for meaningful spiritual dialogue with people who believe differently."
– JACK EGGAR, former president of AWANA and co-author of Shaping Your Family's Faith.
Here are fresh and practical insights . . . a must-have guide to becoming stronger salt and brighter light in the twenty-first century!
– LEE STROBEL, Bestselling author of The Case for Christ