By on
Loving Your Neighbors: A Community Christmas Tree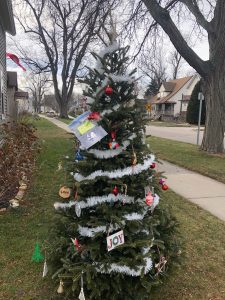 This is the note I posted on Facebook:
This is a community Christmas tree we have put in our yard. We thought since this has been such a hard year we could celebrate Christmas together by contributing to a community Christmas tree. You are all invited to put something on it. Also go up on our porch and help yourself to a little treat and a blessing. Our home is . . . Grand Haven.
---
Over the last 3 years I have been intentionally dwelling in Luke 10:1-12, and in doing this I have found myself among the 70 disciples, following Jesus' instructions on what postures we need to take as we enter homes, neighborhoods, and towns.
In this passage the Lord Jesus instructs us to bring peace to whatever home we enter and to receive the hospitality of these homes and towns without question. There is a powerful mutuality about this that opens the door to connection and healing that causes us to be able to exclaim, "The Kingdom of God is near you now!"
If there is anything that 2020 has made crystal clear, it is our need for connection, healing, and experiencing the nearness of the Kingdom of God. As we dwelt in this text and pondered what the Lord Jesus instructs us to do, my husband, Keith, and I were moved to experiment by inviting our friends and neighbors to offer peace, light, connection, and healing to one another in a simple way during this Advent season through a community Christmas tree. The invitation to friends went out on Facebook and in mailed cards to our literal neighbors.
I can confess that although the idea came to me, I felt a bit self-conscious about it. I thought it was possible that people would think this was really weird, and my fear was that no one would participate. But one thing that Luke 10 has impressed upon me is to listen to and obey the Spirit, because when we do, our eyes are opened to how God is already at work ahead of us. It also helped that Keith was willing to help me through the insecurity of how I was feeling and reminded me that this was an experiment: there was no need to feel pressure.
The response from our friends and neighbors has been overwhelmingly beautiful. We had prayed that God would use to this to encourage, to bring peace, and to allow for the community to offer one another a little bit of themselves, and the Spirit did exactly that and more than what we could have imagined.
Here is my favorite story that came as a result of the community Christmas tree. Late one morning our 85 year old neighbor came over to tell me that he had been in bed battling illness for the last 25 days. He said he had been seeing people putting ornaments on the community Christmas tree and had decided to come over and ask me to put a picture of his wife, Judy, on the tree in loving memory. She died in 2017 and that day would have been her 77th birthday. He sat on our porch and told me about his wife and other things that had happened in his life. The best part about this for me was that it was the contributions of those in the neighborhood that had led him to come out and contribute something that was incredibly important to him. It was a sacred moment. A glimpse of God's goodness and the reality that he's in the neighborhood working through all of us to offer peace, connection and healing, allowing us to proclaim "The Kingdom of God is near!"
Claudia Williams
Grand Haven, MI